Music
Bar
Gene
At Nishiazabu
Monday to Saturday
About Us
The place is near the Nishiazabu crossing.
It is a bar where you can enjoy comfortable music and drinks
apart from the hustle and bustle of the city.
Owner:Yukio Mishiba
Designer of gene per YUKIOMISHIBA. 
Establishment of MoltoBelle Ltd..in 1998.
Began duty as import sales in Italy, import sales of European fabric and product and production / import sale in Asia. As a textile designer , drastically pursued in material development.. Manufacturing thoroughly carried, always being on season lead in top trend. In 2008 ,GENE by Yukio Mishiba announced A/W collection at exhibition in Italy, Paris, and New York.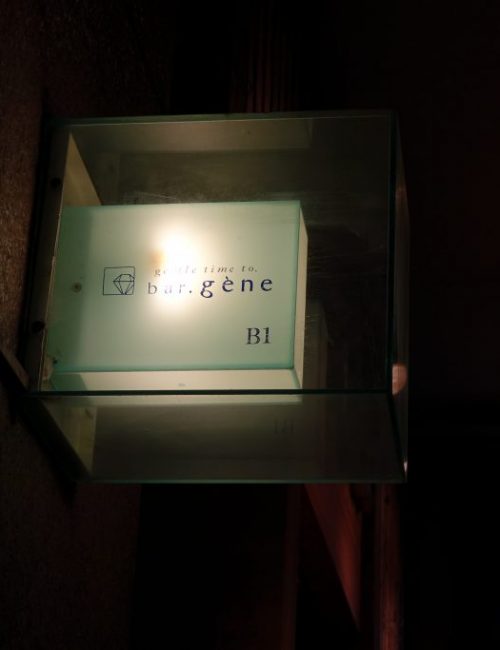 Music Library
Youtube - Our Favorite Songs
Drink:
Japanese Whiskey

Hibiki, Yamazaki, Yoichi, Kaku, etc

Scotch Whiskey

Ballantine, Talisker, Laphroaig, etc

Bourbon Whiskey

Maker's Mark, I.W.Harper、Wild Turkey, etc

Gin
Vodka
Rum
Tequila
Beer
Wine
 and so on
Slow
Dancing
in
Burning
Room !
Our Space
From the entrance of the building standing beside the Nishi-Azabu intersection, go downstairs to the underground shop.
In addition to counters, table seats are also available.
Enjoy yourself, by yourself, with a couple, with friends.
Monday to Saturday
We open on the evening of Monday to Saturday.
Events are also planned from time to time, and information is disseminated through SNS etc.
Please feel free to come by when you stop by Nishiazabu.
MAP
Music Bar Gene
〒106-0031
Plaza Nishiazabu BLDG.
3-24-22, Nishiazabu, Minato-ku,
Tokyo
03-3408-2730
https://www.genebar.tokyo
info@genebar.tokyo